Meet Our Team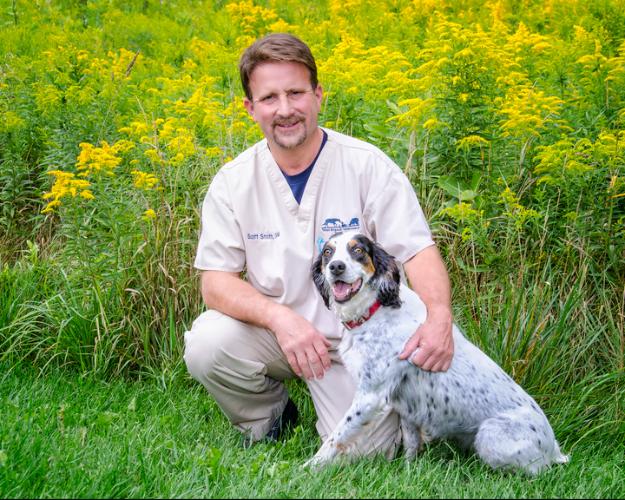 Dr. Scott Smith
Owner, DVM
Way back in 1995 at the age of 10 years old 😉, Dr. Smith graduated from the University of Missouri College of Veterinary Medicine. He joined the WBVS team in March of 2003 and has been our owner since January of 2010. Dr. Smith is originally from Spring Valley, Ohio and has been in practices throughout the mid-west and mid-south prior to moving to northern Michigan. When not working he enjoys a wide variety of seasonal outdoor activities: fly fishing, upland game hunting, cross-country skiing, snowshoeing, hiking, and yard work.

Pictured with Skylar.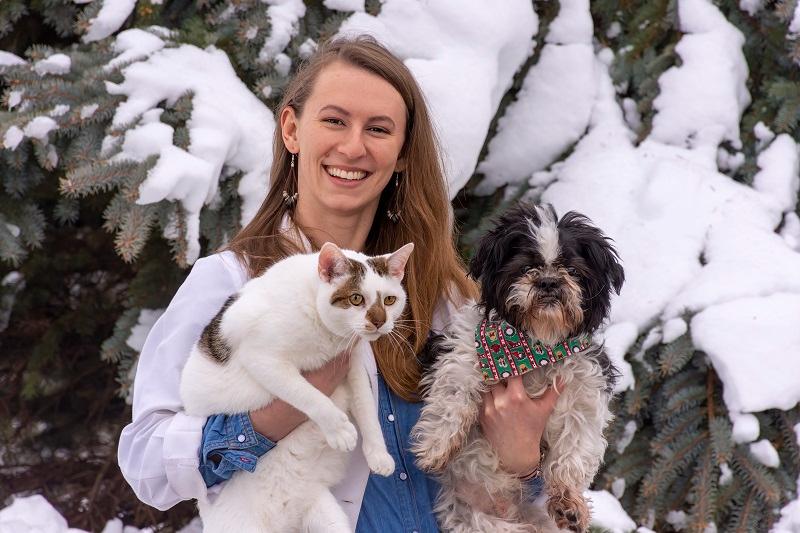 Dr. Sara Stein
DVM
Dr. Sara Stein is a 2018 graduate of Ross University School of Veterinary Medicine, she completed her clinical year at Michigan State University. She started here at WBVS in May of 2018. Her passions in veterinary medicine include surgery, emergencies and end of life care. Dr. Stein enjoys working on her hobby farm which houses horses, chickens, dogs and a cat. In her spare time she enjoys reading, crafting, country concerts and many outdoor activities.

Pictured with Willow and Tobe.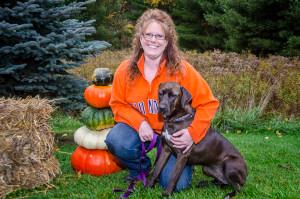 Tina
Practice Manager
Tina has worked in the veterinary field since 1991. She is a 1996 college graduate and continues to attend meetings, conferences, and workshops in the veterinary field. She currently shares her home with her husband, Matt, their three dogs (Titus, Zima, and Hooch), and their two cats (Cointreau and Burt). Tina loves the veterinary field and all of the great clients, patients, friends, and colleagues she has met over the years. In her free time, Tina enjoys reading, traveling, hiking, watching movies, listening to a variety of music, spending time with friends, and bike riding. She is very proud to have a job that she loves in a field that has given her so many great people to work with and for.

Pictured with Hooch.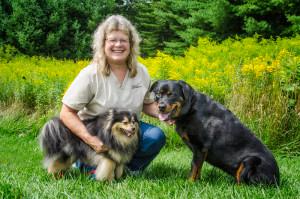 Diane
LVT, Receptionist
Diane has worked at West Branch Veterinary Services since April of 2000. She previously lived in the metro Detroit area and worked 18 years as a Licensed Veterinary Technician. Since being at WBVS she primarily works the front desk and fills in as a technician. In the veterinary field she has worked with all kinds of animals including wildlife, reptiles, exotic birds along with farm animals and house pets. She lives on 20 acres and enjoys vacationing, being outdoors, gardening and her assorted variety of pets.

Pictured with Cooper & Marci.
Kelly
Receptionist, Retired March 2023
Kelly has always had a love of animals and enjoyed many pets over the years, from gerbils to horses. Kelly began working in the veterinary field in 1996 in Traverse City. She then moved to the West Branch area and has been with West Branch Veterinary Services since 1997. Kelly is currently one of our receptionists but has worked almost every position in our practice. Kelly has fostered pets through the Ogemaw county Humane Society before a shelter was built. She is currently married and has 3 dogs and 1 cat. Kelly enjoys almost everything outdoors, especially camping, hiking and running. She also loves to read and travel.

Pictured with Shandy.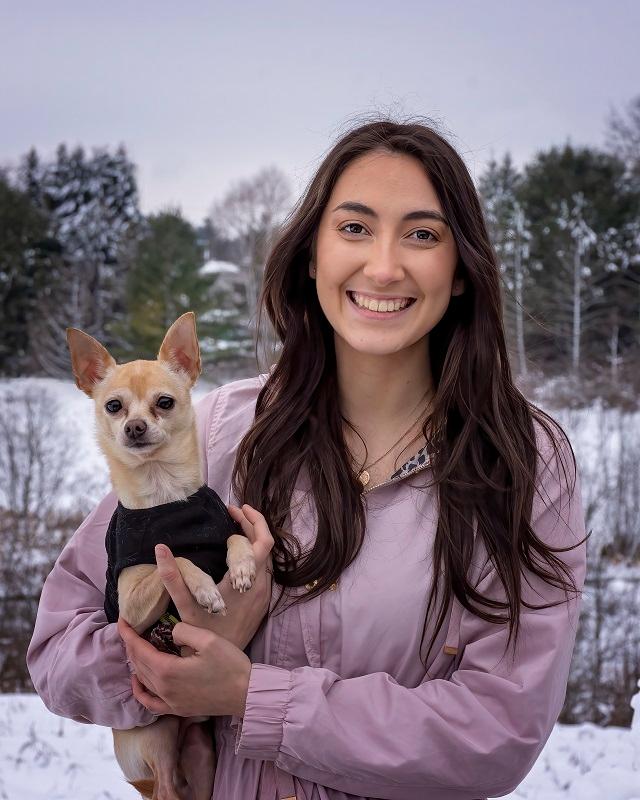 Jenna
Recptionist, Technician Assistant
Jenna joined our team in September of 2018, she is a West Branch native and we are thrilled to have her on our team. In her free time she likes to hang out with friends or relax at home with her chihuahua, Charlie. Jenna works as a receptionist and a veterinary technician assistant.

Pictured with Charlie. Jenn
Receptionist
Bio coming soon! Kathy
Veterinary Assistant
Bio coming soon!
Danielle
LVT
Danielle graduated from Globe University-Wisconsin in 2014 with an associates of applied science in veterinary medicine. She then took her veterinary technician national exam in 2015 to become an LVT and has been working in the veterinary field since. Originally from Bay City, MI she has recently moved to the West Branch area. She has a love for giant dogs, and owns a Great Dane, named Finley. Danielle's favorite thing about being a veterinary technician is preforming dental procedures. She loves giving pets a fresh new smile. When not working she enjoys baking, trail riding, boating and being with friends.

Pictured with Finley.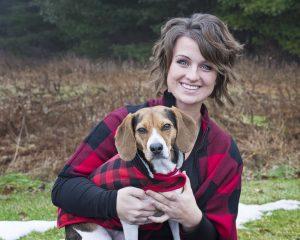 Randi K.
Veterinary Assistant
Randi graduated from Houghton Lake High School in 2011, and received her bachelor of science from Michigan State University in 2015. She then completed a summer internship with The A.R.K. Wildlife Rescue and Rehab facility, and started as a veterinary assistant here at WBVS in October 2015. Randi is currently studying to become a Licensed Veterinary Technician through Penn Foster University. She loves summertime, and enjoys spending weekends out on the lake with friends and family. Randi shares her home with her fiance Jared and their beagle named Jessie.

Pictured with Jessie.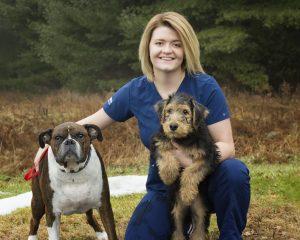 Sara
Veterinary Assistant
Sara was born and raised in West Branch. She currently shares her home with her fiancé Zachery and their 2 dogs, Moose and Lilee. Sara has always been interested in the field of veterinary medicine. She has a love for smushed face dogs, hence her boxer Moose. One day she hopes to own a French bulldog! She enjoys spending time outdoors and playing fetch with her Airedale Lilee.

Pictured with Lilee & Moose.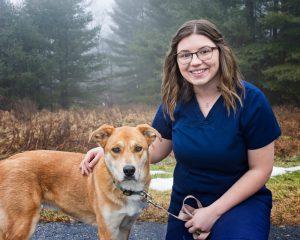 Allyson
Veterinary Assistant
Allyson is a graduate of Ogemaw Heights High School class of 2015. She joined our team in the fall of 2018. Allyson has three dogs named Julyette, Bandit, and Allis and a house cat named Romeo. She has always loved all animals large and small. In her free time, Allyson enjoys going to the farm and taking care of calves, and being outdoors. Allyson's future plans are to attend college to become a LVT. Her favorite parts of her job are helping with surgeries, and comforting all pets.

Pictured with Julyette. Jessica
Veterinary Assistant
Bio coming soon!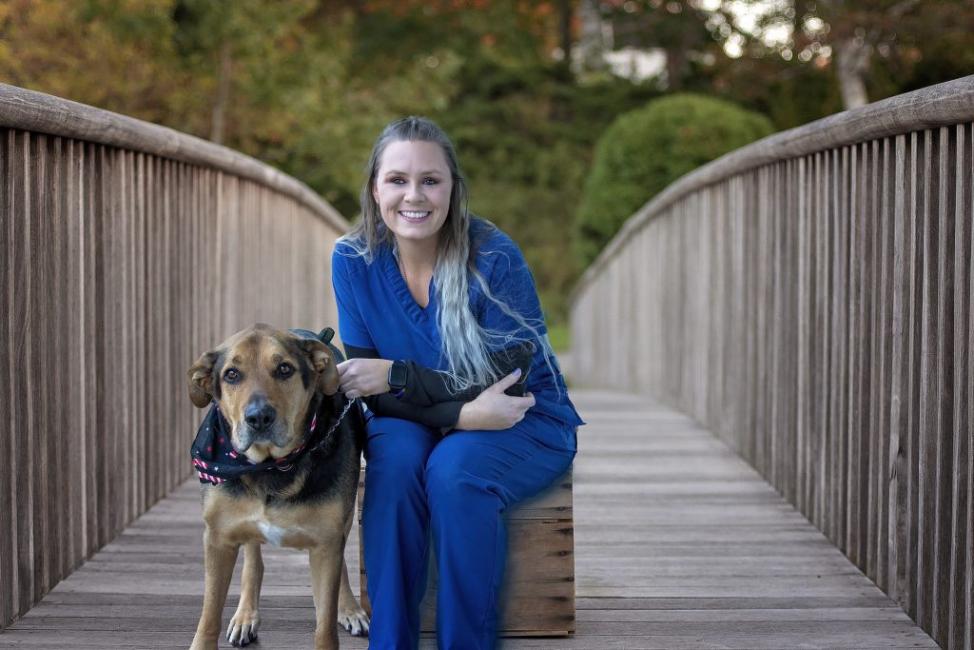 Sally
Veterinary Assistant
Bio coming soon!

Pictured with Sally & Po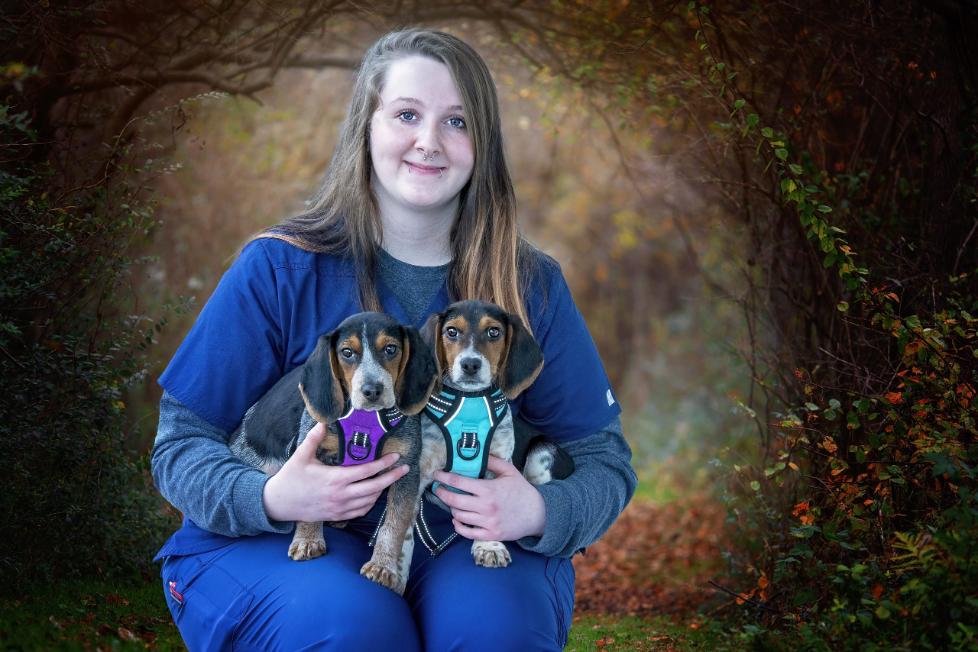 Jazmine
Veterinary Assistant
Bio coming soon!

Pictured with Luna and Nova.